About Us
Coffee Connection, Malaga can be found at the Malaga  Markets and is open 7 days a week.
We offer over 30 flavours of beans which you can have as a freshly made take-away coffee or buy the beans to take home and enjoy a freshly brewed cup of coffee any time you want.    
Our beans are locally roasted in W.A.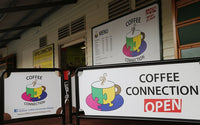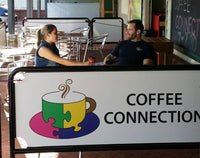 Malaga Open 7 Days
Come visit us today and let us make you a cup of coffee with your favourite flavoured freshly ground coffee beans. Bring a friend and sit outside, relax and enjoy.
Drinks Menu